Spring Street Hotel

asap/ Adam Sokol Architectural Practice
Collaboration with —
Michael Wysochanski, Nancy Choi, Matt Kuo, Ana Misenas, Boris Morin-Defoy, Wei Ni Ni, Daymond Robinson, Gregory Serweta.
Design Development, Physical Modeling
Located in the Historic Distract of LA, the Spring Street Hotel stands 27 stories tall offering guests panoramic views of LA's landscape, 170 guest rooms, and about 20 suites. The hotel will contain various public spaces such as a rooftop bar, a theater, and retail spaces. The hotel situates itself between two buildings like a rock as if it was carved straight out of the surrounding mountains of LA. To help emphasize the hotel's programming, simple materials such as wood, concrete, and glass will be used. Lesley contributed to the design development and physical modeling for this project.

---
X-House


asap/ Adam Sokol Architectural Practice
Collaboration with —
Boris Morin-Defoy, Daymond Robinson, Michael Wysochanski; Ruby Kaur, Ana Misenas
Schematic Design, Physical Modeling
The X-House functions as both a showcase business as well as a residential space; featuring a 1,000 bottle wine cellar, tasting room, and spaces for business meetings and banquets. Like clearings in a forest, one would meander through the trees to reach the breath-taking view, and in this case, the breath-taking view is of Beijing. These clearings then create little pockets that dance the fine line of privacy and exploration. The final design of the X-House hinged off the concept of Bézier curves creating a network little caves with each space influenced by various artists. Lesley contributed to the schematic design and the physical model making of this project.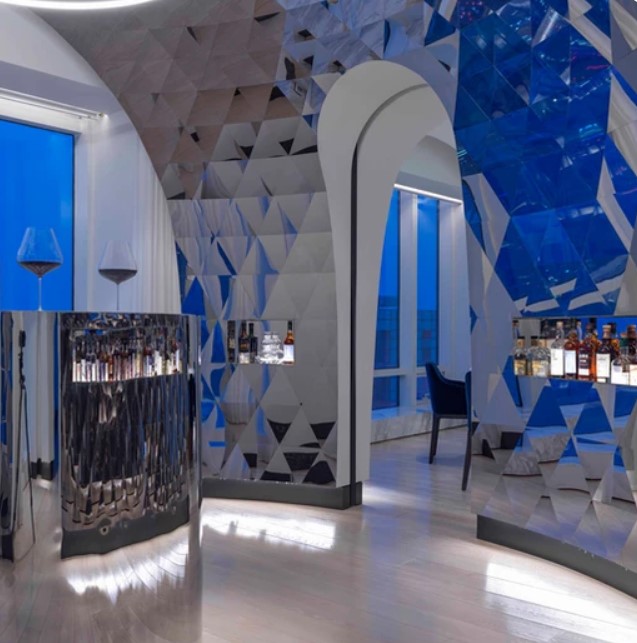 ---
Beyond the Streets: NY


Art Market Productions

Collaboration with —
Pressure Point Creative

Celebrating the history, present, and future of street art is a 100,000sqft exhibition spread across two floors in Brooklyn, NY. Curated by Roger Gastman, the exhibition featured a plethora of artists. The mediums ranged from postcards to murals to lived environments. The exhibition ran for two months and also functioned as an environment for communities to participate in programs, tours, and banquets. Lesley contributed to the floorplan layout, set design, material sourcing, technical drawings, and retail design of this project.
---
Hydracastle

University at Buffalo

Collaboration with
Ryan Macari, Kyle Mcmindes, Kenzie McNamara, Ana Misenas, Christopher Ruggiero, Alexandra Strycharz, and Christopher Wisdom

By casting and inverting their existing space using cotton sheets and plaster, this ragtag group of eight were able to create a lightweight and thin pavilion. The chosen space to invert contained the most nooks and crannies therefor providing an adequate amount of structure needed to build the pavilion. Small nooks became beams and vents acted as studs. The fluid and draping nature of the cotton sheets provided the pavilion its foundation as well as little interesting ornaments such as plaster puddles. Upon completion, the Hydracastle was able to hold up four of the team members.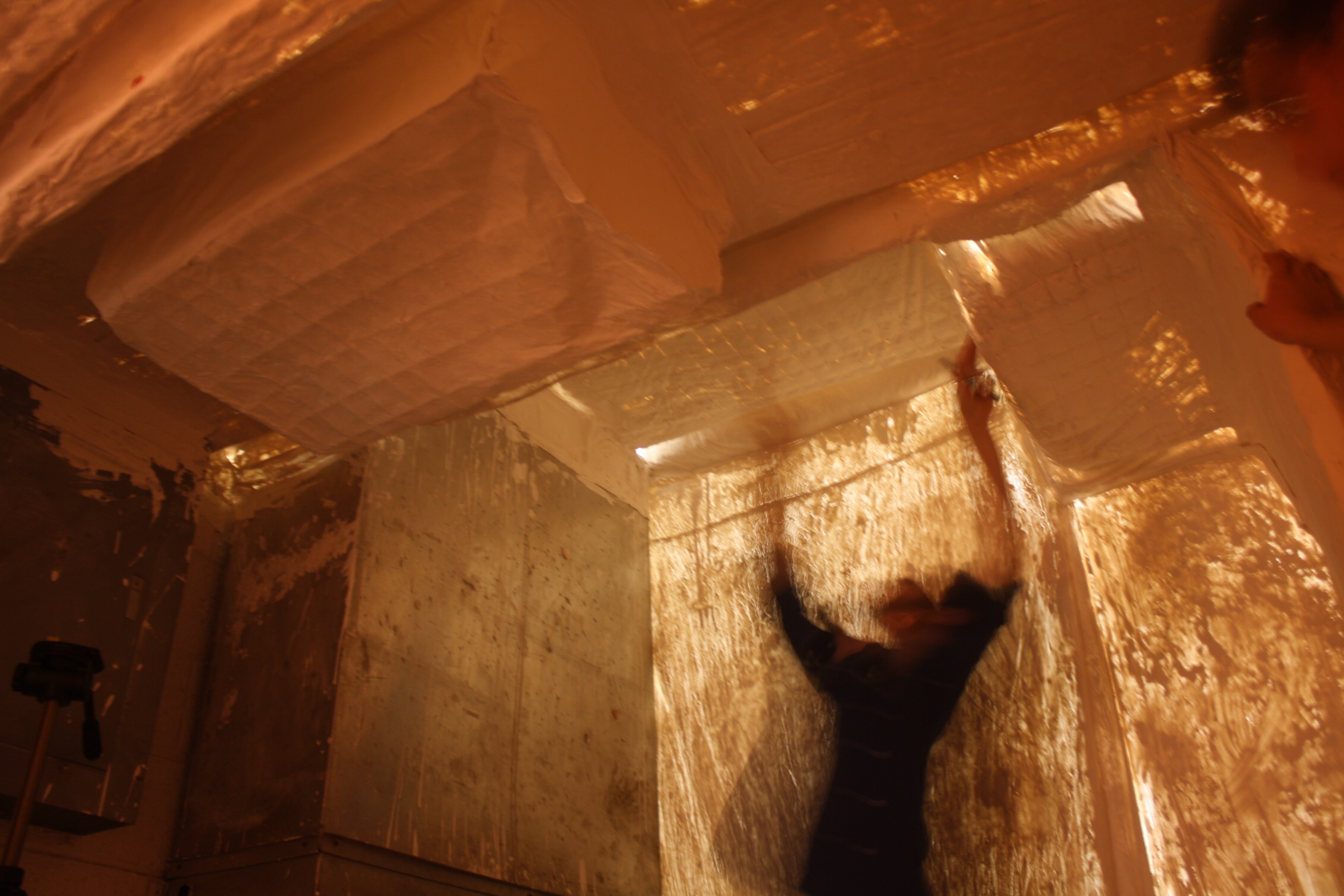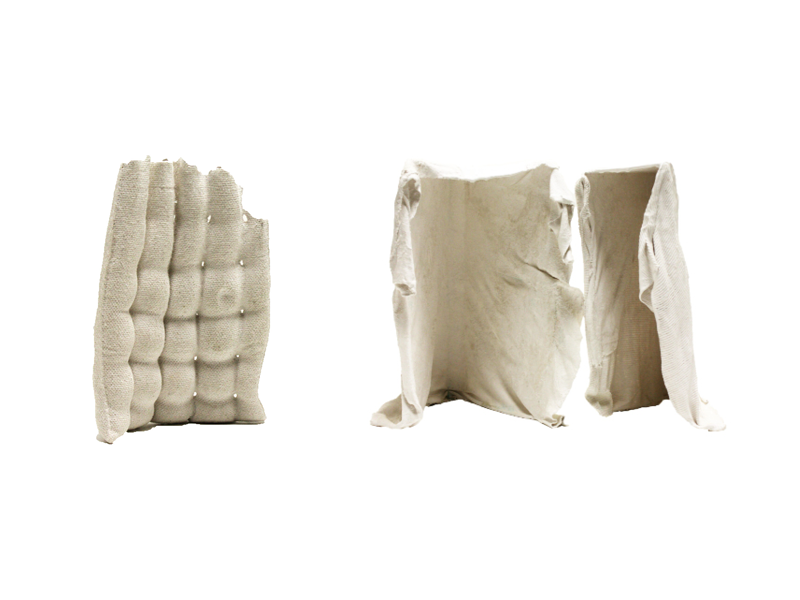 ---
Tripar Pavilion

University at Buffalo and Shioya Sangyo Steel

Collaboration with
Nicholas Bruscia; Andrew Barkhouse, Zakaria Bouccetta, James Kubinec, Daniel Lamm, Ryan Macari,
Kyle McMindes, Michael Rigaglia, Gabrielle Roncone, Louis Rosario, John Sanchez, and Nick Traverse

The tripar pavilion was inspired by the spatial qualities and structural stability of a hypar. The tripar was the result of a three day design-build in Fukushima, and was graciously sponsored for by the Shioya Steel company. The company provided us with square steel pipes (40 mm, 3.2mm thick, 3m in length) and access to their multi-axis laser cutter, which allowed us to fabricate the pavilion. The pavilion is grounded at three points and is symmetrical at all three points. Each cut is significant because all joints are hook joints. The pavilion is structured purely by its own weight.
---